Background
Ann studied upright bass with
who gave her a classical foundation as well as advanced music theory, bass line construction, stylistic, techical, and improvisational training. She is currently a full-time bassist working for Washington area agents and bands. Reads notes, chord symbols, and plays by ear. Plays upright and electric, both fretted and fretless.

Credits her strong reading ability to 27 years of having played flute, saxes, and clarinet.

Experience
-BIG BAND
Has worked with The Richard Bray Orchestra,
Doc Scantlin and His Imperial Palms Orchestra,
Sentimental Journey, The Big Band Tradition, and Just Jazz. Has held the bass chair in the Doc Dikeman Big Band, Jim Fox Orchestra and
The New HOTS Jazz Orchestra, a 20's-30's band.
She now leads, plays bass in, and manages
-CLASSICAL
Has played with local orchestras, canatas and masses in church, and string quartets at weddings. Lots of etudes: Simandl and Slama.
-COUNTRY
Contemporary country and traditional square dance music.
-INTERNATIONAL
Familiar with styles of Argentinean, Brazilian, German, Greek, French, Hungarian, Israeli, Italian, Russian, Turkish, etc. music.
-JAZZ
Freelances in local combos and has played with Naser Abadey, Ron Holloway, Fred Fosse, and Antonio Parker. Currently heads
(piano, bass, and drums), which plays jazz standards for dining, dancing, and social functions.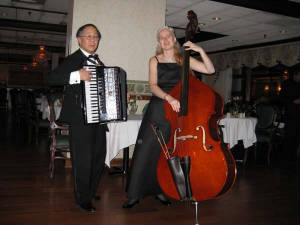 Strolling with accordionist, Ross Quan.
-DIXIELAND
Played the Dixieland Jazz Brunch weekends at
in Southwest Washington, DC, for six years from 1988 to 1994.
-KLEZMER
Played for a year with the Washington, DC, klezmer band,
Also played Israeli folk music at Israeli Night at the Woodside Deli in Silver Spring, Maryland, weekly for two years. Ear job, accompanying an Israeli singer. Has appeared with the klezmer band, Hot Kugel.

-ROCK
Wedding band classic rock. Israeli classic rock. Praise music in churches.

-STAGE MUSICALS
Has played in trios on up to 24 piece paid orchestras for over 50 Broadway stage musical productions (see list below) for area community theaters, music schools, schools, universities, and arts camps. Has substituted at local theaters: Signature Theater in Alexandria, Virginia, and Olney Theater in Olney, Maryland. Can easily read a book musical or play from a piano part or by ear. Scroll further down this page for a list of musicals played (opposite photo).
-STROLLING
Ann loves strolling! Plays with The Strolling Strings and other strolling groups. Also has experience in restaurants going table to table, playing requests by ear.

-CELLO
Ann also plays cello. Has played wedding music, church cantatas, classical recitals, and with a community orchestra.

-INTERNATIONAL GIGS
Ann will be flying to Singapore to play for
-TEACHING
Past faculty member at Sidwell Friends six years as instrumental music teacher. Four years at Peabody Preparatory as instructor of private flute lessons. Over twenty years of private students. Currently teaches upright bass, electric bass, and cello at home and at