The Ann Marlowe Jazz Trio creates a mood of elegance but also knows how to entertain wherever it plays: for dining and dancing, in restaurants, at wedding receptions, or at any social function. It can easily be expanded to a quartet or a quintet by adding a vocalist or the instrumentalist of your choice.

Ann's group plays popular songs of the 30's, 40's, and 50's by such great American songwriters as George Gershwin, Jerome Kern, and Irving Berlin, and songs made famous by Frank Sinatra. Known as "jazz standards," this repertoire includes upbeat and medium swing and slow and beautiful love songs, as well as Latin music and waltzes. Her music is perfect for dancing or listening.

Ann is happy to work closely with you in planning the music for your event.

To hear The Ann Marlowe Jazz Trio on the web, click
or click here to
request a demo CD to be mailed to you.

The Players
Ann Marlowe, Bass
Ann was an accomplished woodwind doubler, having studied flute with Bonnie Lake of the Baltimore Symphony Orchestra, playing classical flute recitals, in pit orchestras for stage musicals, and saxophone in big bands, when bass lines first called to her 1988. She bought an electric bass to exorcise this demon, but became a bass player instead, moving to upright and giving up woodwinds.

A friend invited her to sit in on his Dixieland Jazz Brunch weekends at The Market Inn Restaurant in Southwest Washington, DC, and Ann stayed for five years. The Market Inn job was her university. She started out two-beating, then began to walk and solo. All of her ensemble skills she learned in a performance situation.

She spent a lot of time developing her skills and abilities. More and more people began calling her for gigs, and eventually she was able to quit her day job and become a full-time musician. She has never been happier.

She had the honor of playing for President-Elect Bush and his Cabinet the night before his Inauguration in 2001, and also for a reunion of ex-President Nixon's staff in the 1990's.

Ann really enjoys entertaining people and contributing to a social event. Playing music for people is what its all about for Ann.

To see Ann's music resume, click

Dave Klunk, Piano
Dave Klunk began piano lessons in second grade and received classical musical training at the Peabody Conservatory of Music. He paid his way through college playing for dances in Milwaukee. While serving in the U.S. Army he played with a jazz quintet in France and Germany.

Dave has perfect pitch and knows hundreds of tunes by memory, a result of having played solo piano at many parties, weddings, and hotel cocktail lounges.

He also played in the Kaleidoscope Orchestra big band (with Ann Marlowe in the sax section) for formal dining and dancing and jazz concerts for many years and has been pit pianist and musical director for many shows and stage musicals.

Dave is the proud owner of a Steinway concert grand piano, formerly in Steinway's concert division, which has been performed on by Andre Watts and Michel Legrand.

Dave says that if he doesn't do anything else in life well, he really wants to be good at bebop.
Harry Pinder, Drums
Harry is a natural talent. He learned drums by watching his father play, and by studying other players. He's never had a lesson.

A leader in his own right, his own Landernier's Trio has played for President Ronald Reagan, DC Mayor Marion Barry, politicians Jesse Jackson and Walter Fauntroy, been the house band for a Washington TV talk show, and been on cable TV. Harry's group was at Hospitality House for ten years and at The Player's Club for twenty years.

A native-born Washingtonian, Harry is part of music history; his cousin "went with" Sonny Greer, the drummer for another native-born Washingtonian: Duke Ellington.

Harry played for bands that came through town. He once played for Fletcher Henderson. Lionel Hampton heard Harry play in a club, once, and invited him to go on the road, but Harry chose to stay home and support his family with his job.

Harry has experience playing jazz, Dixieland, rock, swing, country and western, stage shows, and big band music. He has played with The Richard Bray Big Band.

Harry says he likes all kinds of music, so long as it has a steady beat.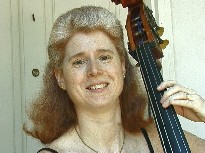 Ann Marlowe, Bass
Dave Klunk, Piano

Harry Pinder, Drums